MIT Security - Alpha Phase of Bug Bounty Program in April 2016
Submitted by

Editorial_Staff_Team

on Mon, 04/25/2016 - 11:52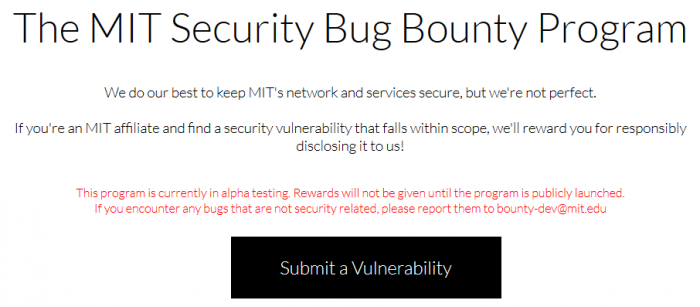 MIT Security - Alpha Phase of Bug Bounty Program in April 2016
In april 2016 the well known MIT EDU started a new official bug bounty program. The MIT Bug Bounty program is an experimental program aiming to improve MIT's online security and foster a community for students to research and test the limits of cyber security in a responsible fashion.
In- Scope Domains
In-Scope Vulnerabilities
Remote Code Execution (RCE)
SQL Injection
Authorization bypass / escalation
Information Leaks
Cross Site Scripting (XSS)
Cross Site Request Forgery (CSRF)
Out-of-Scope Vulnerabilities
Any bug that does not pose a real or demonstrable security risk
Denial Of Service Attacks (DOS)
Social Engineering
Physical exploits of our servers or network
Local network-based exploits such as DNS poisoning or ARP spoofing
The program runs actually in an alpha-testing mode without commercial rewards. In the alpha version the researchers must to request a kerberos account to submit a security ticket. During the next months the program will change to a commercial oriented model to reward security researchers permanently. Feel free to register with the program or report your prepared issues by mail to the mit edu security team administrators.
Reference(s):