Blind SQL Injection Vulnerabilities reported to Oracle Corporation
Submitted by

Editorial_Staff_Team

on Sat, 04/14/2012 - 05:56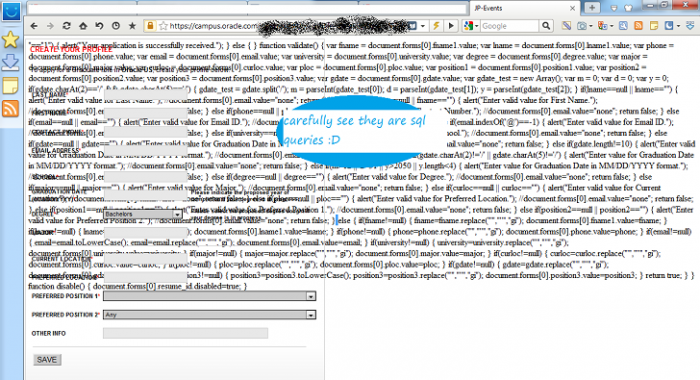 Blind SQL Injection Vulnerabilities reported to Oracle Corporation
The well known Vulnerability Laboratory Researcher Shadab Siddiqui (23) from Indian has discovered this week a remote vulnerability with critical severity to oracle. Oracle Corporation (NASDAQ: ORCL) is an american multi-national computer technology corporation that specializes in developing and marketing computer hardware systems and enterprise software products – particularly database management systems.
Laboratory:
https://www.vulnerability-lab.com/show.php?user=Shadab%20Siddiqui
Shadab Siddiqui disovered multiple remote blind SQL Injection vulnerabilities on different parts of the Oracle web infrastructure. The vulnerability allows an attacker (remote) to inject/execute own sql commands on the affected application dbms. Successful exploitation of the vulnerability results in dbms, service & application compromise. The vulnerabilities are located on the shop, campus, education & academy service of oracle.
Affected Service(s):
[+] https://education.oracle.com
[+] https://academy.oracle.com
With coordination of the oracle security team (Steve M.) the issue has been fixed quickly on all instances of the different web service.
The hotfix on the web-servers has been released within 12 days after the issue has been analysed by oracle security & reported after the report of the vulnerability laboratory team.
[+] 2012-03-28: Vendor Notification
[+] 2012-03-29: Vendor Response/Feedback
[+] 2012-04-11: Vendor Fix/Patch
[+] 2012-04-12: Public or Non-Public Disclosure
Advisory: https://www.vulnerability-lab.com/get_content.php?id=478
Press/News: http://news.softpedia.com/news/Oracle-Fixes-SQL-Injection-Flaws-on-its-Public-Sites-264140.shtml